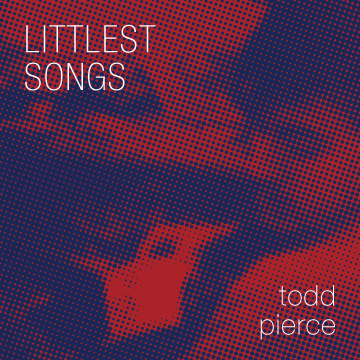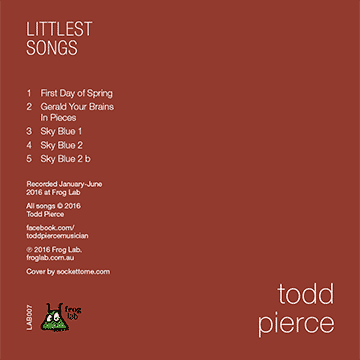 Littlest Songs
by Todd Pierce
It began with a rare find - the discovery of a long forgotten super-8 film cartridge. When processed, the film revealed a surprise: a young Todd Pierce playing the guitar, some 30 years previous. The weirdness of the damaged footage and the strangeness of the find inspired the theme for the Littlest Songs EP.
Five forgotten songs written by a teenager in the 1980s; finally rerecorded three decades later by the same person, now a middle-aged man. In Littlest Songs Todd effectively collaborates with his younger self while he explores the changing and sometimes ambivalent feelings that we have towards our younger selves.
This is the third and final EP in the Little Songs collection - exploring musical concepts of conscious structural simplicity. Arrangements are minimal, takes are limited, and production is unfussy. Mistakes are allowed and retained.
Track List
First Day of Spring
Gerald Your Brains in Pieces
Sky Blue 1
Sky Blue 2
Sky Blue 2 b
Credits
Recorded betwene January and June 2016 at Frog Lab by Todd Pierce
All songs copyright © Todd Pierce
Cover by sockettome.com
Get It
Buy CD
Purchase securely via PayPal. Paypal or credit card payment.
Digital Download
Digital version can be purchsed from any of the following digital stockists, and more:
Video
Related to...