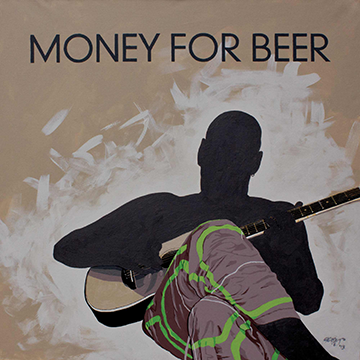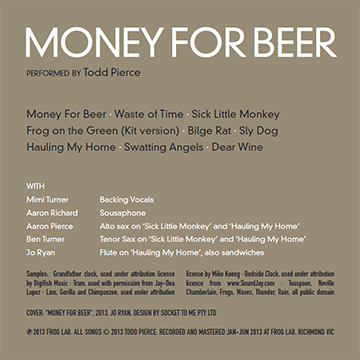 Money For Beer
by Todd Pierce
Debut solo album by Todd Pierce. For the full effect, we recommend listening to it alone, preferably in the dark, and accompanied by a bottle of red. Seriously, we tried it and it totally works!
Track List
Money For Beer
Waste of Time
Sick Little Monkey
Frog on the Green (Kit version)
Bilge Rat
Sly Dog
Hauling My Home
Swatting Angels
Dear Wine
All songs copyright © Todd Pierce
Credits
Money For Beer Performed by Todd Pierce
with
Mimi Turner, Backing Vocals
Aaron Richard, Sousaphone
Aaron Pierce, Alto sax on Sick Little Monkey and Hauling My Home
Ben Turner, Tenor sax on Sick Little Monkey and Hauling My Home
Jo Ryan, Flute on Hauling My Home, also sandwiches
Samples
Grandfather clock, used under attribution license by Digifish Music
Tram, used with permission from Jay-Dea Lopez
Lion, Gorilla and Chimpanzee, used under attribution license by Mike Koeng
Bedside Clock, used under attribution licence from www.SoundJay.com
Teaspoon, Neville Chamberlain, Frogs, Waves, Thunder, Rain, all public domain
Album
Recorded and mastered Jan-Jun 2013 at Frog Lab, Richmond VIC
Cover
Money For Beer, 2013, Jo Ryan
Design by Socket to Me Pty Ltd
Get It
Buy CD
Purchase securely from Frog Lab via PayPal. Paypal or credit card payment.
Digital Download
Digital version can be purchsed from any of the following digital stockists, and more:
Video